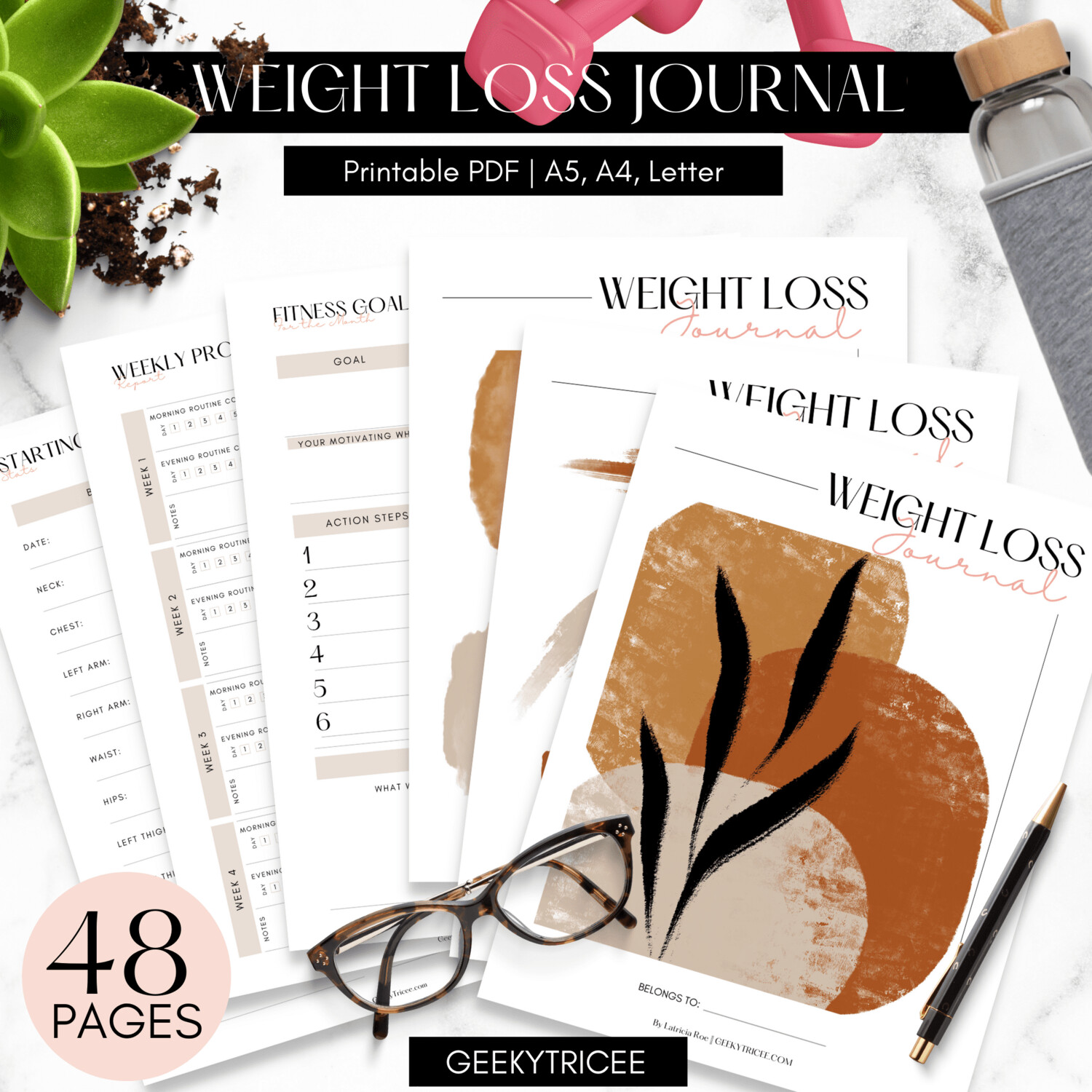 Weight Loss Journal | A4, A5, Letter - Newsletter Exclusive
00014
Chic 48-page Weight Loss Journal designed from my 75 lbs weight loss. Design and track a healthy lifestyle that gets results.
Product Details
A weight loss journal created by a geek who lost 75 lbs after trying all types of stuff. Follow through on all the healthy habits that work. Design a lifestyle that aligns with your weight loss goals, plan to stay on track, and journal your progress. Improve consistency and self-discipline. Make your goals happen.
PDF FOR THESE SIZES:
Letter (8.5 in x 11 in)
A5 (5.8 in x 8.3 in)
A4 (8.3 in x 11.7 in)
Left and right binding pages included. Margins for hole-punching on each side. Cut lines included for easier printing and cutting.
LIST OF PAGES:
Cover pages
Notes pages
Progress chart
Fitness monthly schedule
Monthly to-do list and weekly measurements
Starting stats
Completion stats
Monthly fitness goals
Routine builder
AM/PM Routine Habit Tracker
Monthly Habit Tracker
Healthy Inspiration
Weekly Progress Report
Weight Loss Tracker Chart
Weight Loss Tracker Bubbles Chart - 30, 70, 100 lbs
Sleep Tracker
Water Tracker
Exercise Tracker
30-Day Exercise Challenge
Steps Tracker
Cardio Tracker
Weekly Goals
Weekly Fitness Planner
Weekly Fitness To Do List
Weekly Meal Planner
Weekly Meal Planning Notes
Daily Wellness Journal
Daily Fitness Journal
Weekly Review
PRINTING:
Choose Actual Size or Scale to 100% in the Page Sizing & Handling Section
Select Auto Portrait/Landscape for Page Orientation
If working with a duplex printer, select to flip along the long edge for portrait and flip along the short edge for landscape. Some printers can get hung up here so you might have to experiment with settings a bit to find settings that'll work.
Print previews should show in the center of the page. If it is not centered, it is due to a setting on your printer.
Keep the file open on your computer to keep track of what you're printing.
Print two pages to test your settings if needed.
DOWNLOAD:
This is a digital product and no physical product will be mailed to you.
Once payment is completed through SendOwl, you will be sent a confirmation email with a link to your download.
REFUND POLICY:
Due to the nature of this item as a digital PDF, no refunds will be accepted. Please make sure to read through all the details of the listing. Contact me with any questions you might have.
Click here to view the full refund policy.
COPYRIGHT:
The copyright to all digital download pdf files remains with the designer, Latricia Roe. Files are intended for personal use by the single purchaser, and may not be copied, shared, distributed, or resold.
Save this product for later