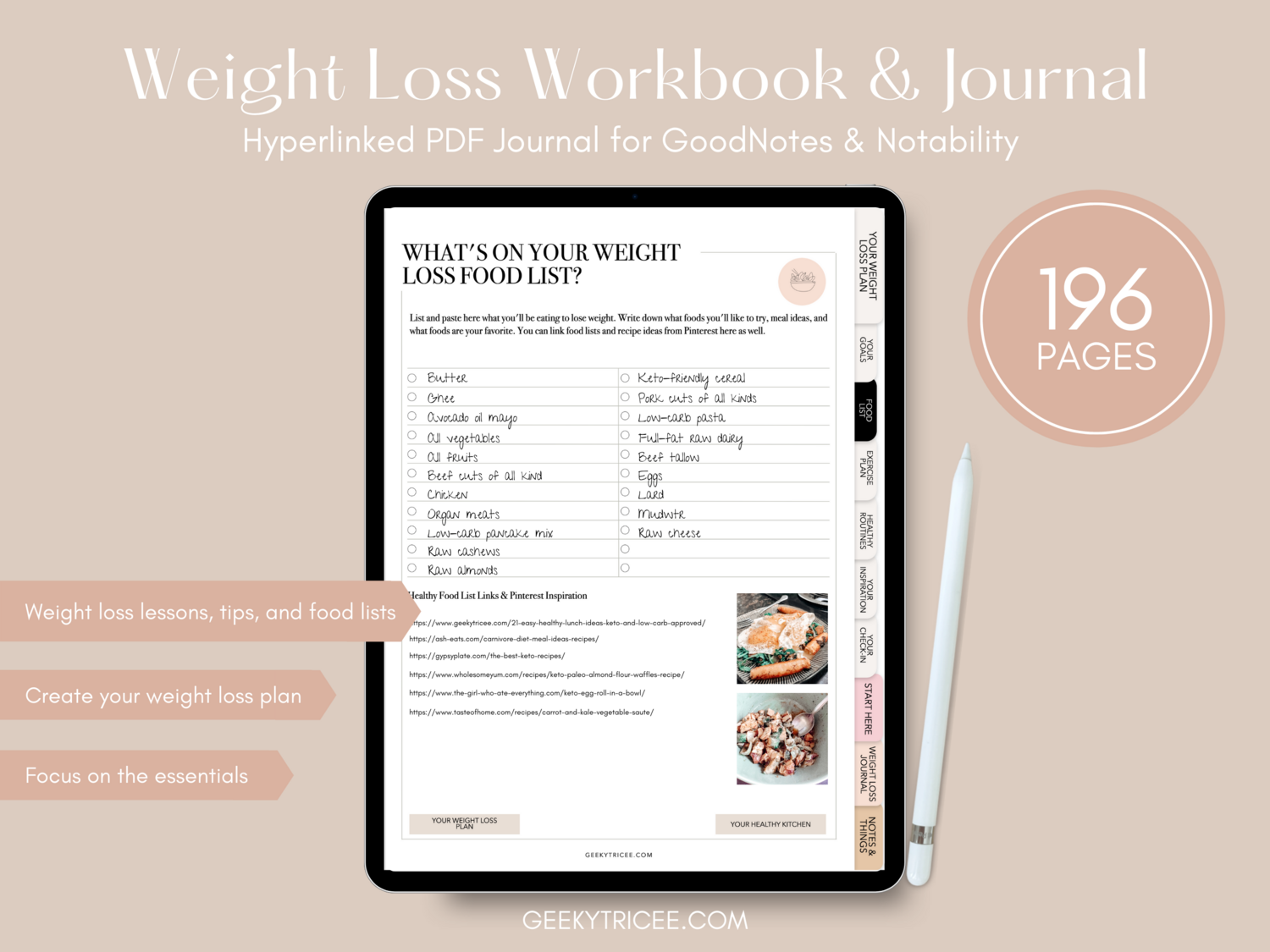 Digital Weight Loss Transformation Workbook | Planner | Journal | Goodnotes, Notability
00012
Includes lessons learned from my 75 lbs weight loss journey after trying "everything." Avoid the weight loss crap.
Product Details
This workbook takes you through the steps of creating a working weight loss plan including which weight loss, healthy eating, discipline, and healthy living tips work best for weight loss.
These lessons helped me lose 75 lbs and took me over 20 years to learn. I still use them. There is A LOT of weight loss fluff out there. This resource helps you cut through most of that with a quick read.
After taking in the quick lessons, create your healthy weight loss plan and organize your ideas. Gather and link ideas from Pinterest, Youtube, TikTok, and Instagram. Get creative. After creating your plan, track your plan for 12-weeks monthly, weekly, and daily. Plan your healthy lifestyle. Review regularly. Take and organize progress pics.
Put it to work.
Learn:

Helpful, realistic self-discipline tips for those that struggle with sticking to their goals
What healthy eating tips work and which ones to ditch for easier, simpler weight loss and overall improved wellness
How to create a routine you're more likely to stick to
Essential quick, healthy living tips for simple weight loss, healthy living, and better wellness
What weight loss tips are really out here getting people results (including me :0)
Journal and plan pages include:

12-Week Overview
Before and After
Weekly Progress Photos
Monthly Goals and Action Steps planner
Monthly Habit Tracker
Weekly Progress Chart (routines, meal plan, exercise checklist)
Weekly Goal Planner
Weekly Fitness Planner
Weekly Meal Planner
Weekly Review
Daily Wellness Journal + Daily Food Journal
Notes & Things (for gathering more ideas and notes)
This document is a hyperlinked PDF that allows easy navigation. It requires an APP to be installed such as Notability, GoodNotes, ZoomNotes, or other PDF annotation apps for iPad & iPad pro or NoteShelf and XODO on Android and Windows.
WHAT YOU'LL GET IN 1 ZIP FILE:
1 Hyperlinked pdf file for smaller iPads and tablets
1 Hyperlinked pdf file for larger iPads and tablets
1 Help pdf file
DOWNLOAD:
This is a digital product and no physical product will be mailed to you.
Once payment is completed, you will be sent confirmation emails with links to your download.
REFUND POLICY:
Due to the nature of this item as a digital PDF, no refunds will be accepted. Please make sure to read through all the details of the listing. Contact me with any questions you might have.
COPYRIGHT:
The copyright to all digital download pdf files remains with the designer, Latricia Roe. Files are intended for personal use by the single purchaser, and may not be copied, shared, distributed, or resold.
Save this product for later